iPhone toetab Eduroami võrku ühendumist alates tarkvara versioonist 2.0.
Ühendumine eduroam'i (iPhone)
WiFi-võrku ühendumiseks vajutage ikoonil "Settings" ja seejärel "Wi-Fi":
...
iPhone jätab sisselogimisinfo meelde, seega piisab järgmisel korral ainult eduroam-võrgu nimele vajutamisest. Vajutades Wifi-võrgu juures olevale sinise taustaga noolekesele kuvatakse selle võrguühenduse kohta täpsem võrguinfo: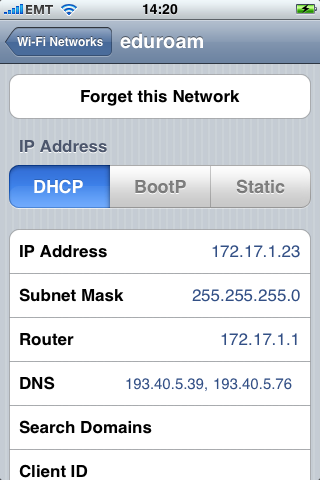 ...
...
Connecting to eduroam (iPhone)
1. Open your phone's

Settings

and tap on 

Wi-Fi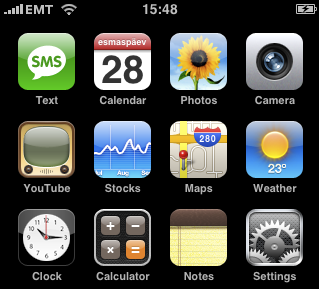 Image Added
2. You should see the eduroam network in the list of available networks called Choose a Network...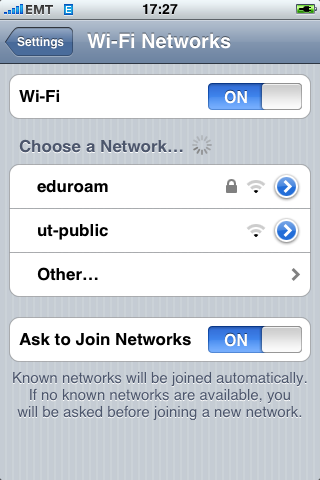 Image Added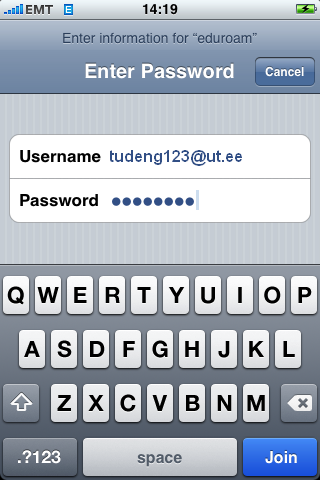 Image Added
Avanenud leheküljel kuvatakse võrgu turvasertifikaat. Sellega tuleb nõustuda, vajutades keskel paremal olevale nupule "

Accept

".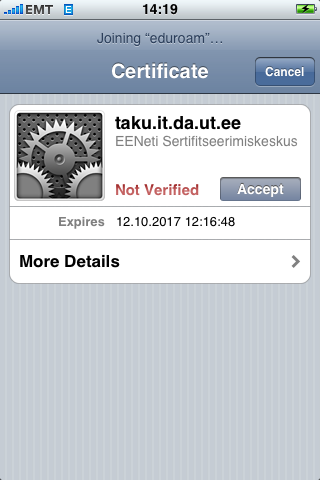 Image Added
Täpsemat infot sertifikaadi kohta saab uurida, vajutades allpool olevale valikule "

More Details

"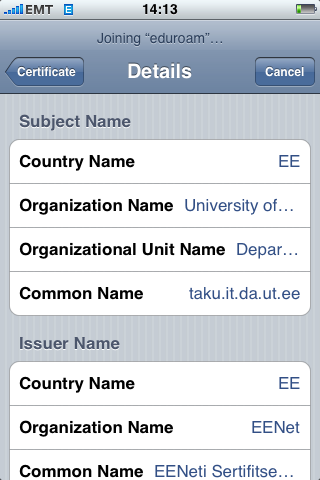 Image Added
Turvasertifikaadi aktsepteerimise järel toimub varem sisestatud kasutajanime ja parooli abil autentimine ning kui need on korrektsed, siis lubataksegi Wifi-võrku kasutama. Kasutuselolevat WiFi-võrku märgistab võrgunimest vasakul pool asuv linnuke.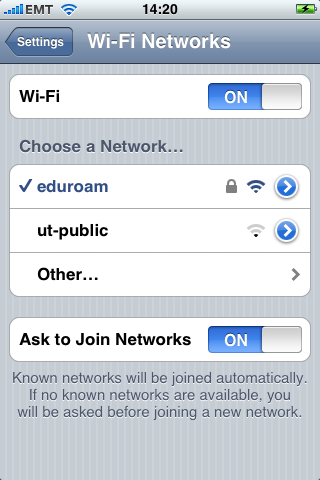 Image Added
iPhone jätab sisselogimisinfo meelde, seega piisab järgmisel korral ainult 

eduroam

-võrgu nimele vajutamisest. Vajutades Wifi-võrgu juures olevale sinise taustaga noolekesele kuvatakse selle võrguühenduse kohta täpsem võrguinfo: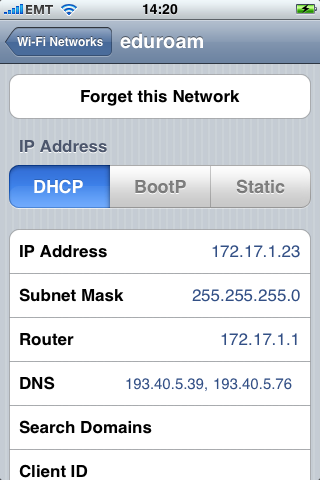 Image Added