Viewing of timetable/exam schedule content
For viewing timetable/exam schedule content,  find the necessary timetable/exam schedule in the SIS Timetables menu and click on its line (see Figure).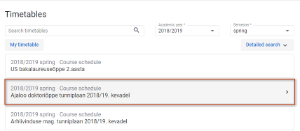 The calendar view of classes related to the timetable/exam schedule opens. By default, the timetable/exam schedule of the current semester and of the current study week is displayed. You can also open the day or the month view using the buttons at top right (see Figure).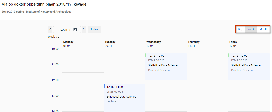 To change the period, you can use the calendar menu at the top left where, depending on the open view, you can use arrows for navigating between days, weeks or months (Figure, p 1), the calendar (by clicking the corresponding icon,  Figure, p 2) or entry of date (by typing the necessary date on the date field, Figure p 3). You can restore the initial situation by clicking the button Today (Figure p 4).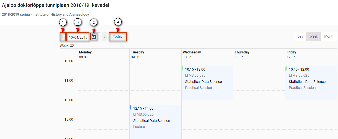 The following information is displayed about the classes:  time, course code, course title and type of the class (lecture, exam/pass-fail evaluation, etc). Types of classes are also distinguished by labels which are of the same colour for the same type of classes (see Figure).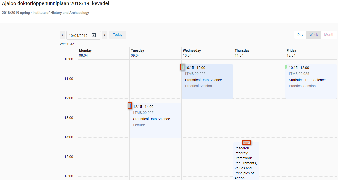 By clicking on the class, additional information on the class opens where, in addition to time and course title also the place, the lecturer, notes related to the class and sign of the group are displayed (see Figure).