Skip to end of metadata
Go to start of metadata
VPN ühenduse seadistamine
1. Avage aadress https://tunnel.ut.ee
2 Sisestage lahtrisse Username oma Tartu Ülikooli kasutajatunnus.
3. Sisestage lahtrisse Password oma Tartu Ülikooli parool.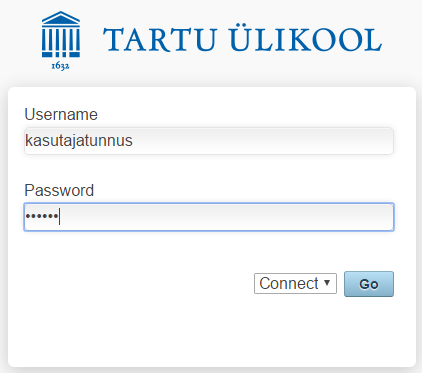 Setting up the VPN connection
1. Go to https://tunnel.ut.ee
2. Enter the username of your University of Tartu account in the Username field.
3. Enter the password associated with your account in the Password field.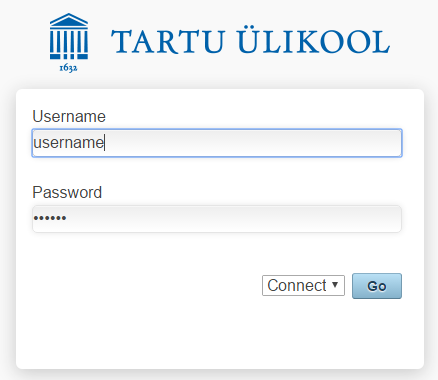 4. Vajuta lingile click here to continue, et laadida arvutisse VPN ühenduse paigaldamiseks mõeldud pakett.
5. Käivita arvutisse laetud paigalduspakett ja teosta paigaldus. Kui teil puuduvad arvutis tarkvara paigaldamise õigused võtke ühendust arvutiabiga.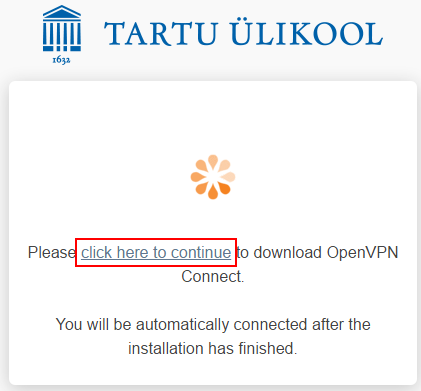 4. Click on the link that says click here to continue, to download the installer for your device.
5. Launch the installer and follow the instructions on the screen. If you don't have permissions to install software then contact the IT support.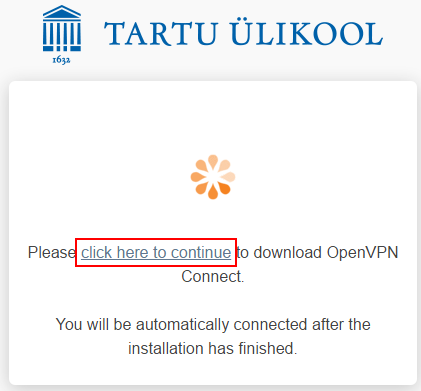 VPN ühenduse loomine
Ühenduse loomiseks peab arvutisse olema paigaldatud OpenVPN Connect tarkvara.
Käivitage arvutis OpenVPN Connect programm, kella juurde ilmub vastav ikoon.



Tehes ikooni peal parema hiireklahviga klõpsu, avaneb menüü, kust tuleb valida tunnel.ut.ee > Connect...
 


 Seejärel küsitakse kasutajatunnust ja parooli, mis tuleb sisestada vastavalt username ja password lahtritesse. Seejärel vajutada Connect.
Establishing a VPN connection
To establish a VPN connection, you need to have OpenVPN Connect software installed on your computer.
Launch the OpenVPN Connect software, an icon will appear at the notification area.



Right click on the icon, choose tunnel.ut.ee and then Connect...
 
 
After entering your username and password, click Connect.
VPN ühenduse katkestamine
Aktiivse VPN ühenduse katkestamiseks tehke OpenVPN ikoonil parem klõps.
Vajuta nuppu Disconnect.
Disconnecting the VPN connection
To disconnect an active VPN connection, right click on the OpenVPN icon.
Click Disconnect.