Skip to end of metadata
Go to start of metadata
Postkasti sisendkausta reeglite eesmärk on lihtsustada kirjade sorteerimist kaustadesse. Reeglid käivituvad automaatselt igal sissetulnud kirjal ning reegli tingimustele vastavad kirjad liigutatakse teie postkastis õigesse kausta. Järgmiste juhiste abil saate seadistada enda postkastis taolisi reegleid.
The purpose of inbox rules is to simplify sorting of incoming messages into folders. Rules will automatically check if incoming e-mails have all the conditions met which are set up in the rule and moves the e-mails to the desired folder. Below you can find instructions on how to set up such rules.
2. Kui te olete oma postkasti sisse loginud, siis valige ülevalt paremalt Sätted (hammasratta ikoon). Paremal avanenud menüüs valige kõige alt Meil. Vasakul avanenud menüüs valige Meil → Automaattöötlus → Sisendkausta- ja korrastamisreeglid.
2. When you've logged in, choose Settings (Gear icon) on the top-right corner. Choose Mail from the bottom of the menu. In the new menu, which opened at the left side, choose Mail → Automatic processing → Inbox and sweep rules.
3. Vajutades "+" märgil avaneb uus aken, kus saate omale sisendkausta reegli lisada. Nime väljale kirjutate reegli nimi. Järgmisena tuleb rippmenüüst valida sissetulnud kirja tingimus. Järgmises rippmenüüs tuleb valida, mida reegli tingimusele vastava kirjaga teha. Järgmisel pildil on loodud reegel, mis teisaldab kirjad, mis sisaldavad pealkirjas või tekstis sõna "konverents", kausta "Konverents".
3. Clicking on the "+" sign opens a new window where you can create a new rule for your incoming e-mails. In the Name field write the name of your rule. From the first drop-down menu choose a condition of the e-mail. From the second drop-down menu choose, what to do with the e-mail which meets the rule conditions. In the picture below is shown a rule which moves the e-mails that have the word "conference" in the subject or e-mail text into the folder "Konverents".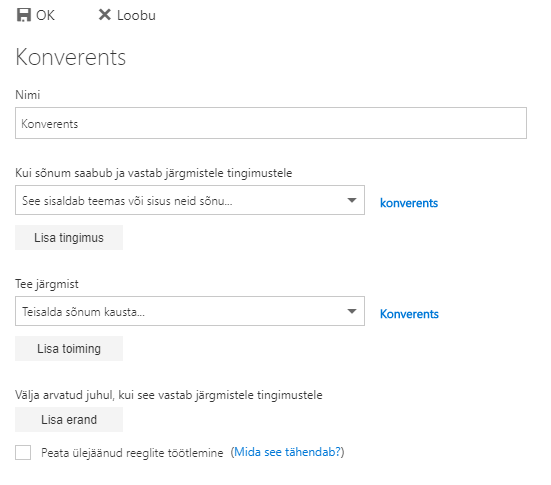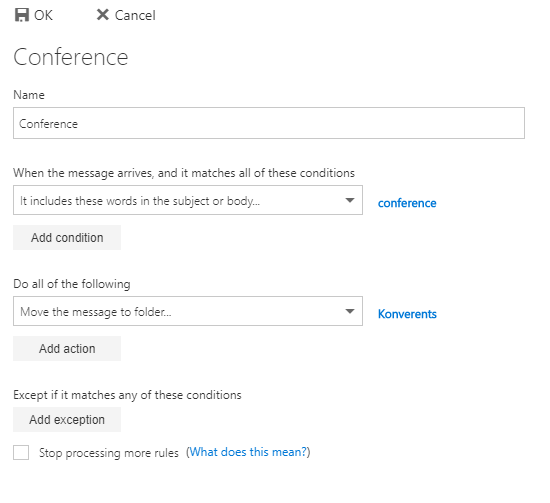 4. Kui loodud reegel on teie jaoks sobiv, siis vajutage OK.
4. When you've finished setting up the rule, click OK.
5. Kui te soovite olemasolevat reeglit ajutiselt peatada, siis võtke reeglilt linnuke eest ära ning vajutage Salvesta.
5. If you want to temporarily disable a rule, remove the tick in front of the rule and click Save.
6. Reegli täielikuks eemaldamiseks valige reegel ning "Kustuta", seejärel "Salvesta".
6. If you want to delete a rule, choose the desired rule and click delete. After that, click Save.